18th August. Vietnam Veterans' day
Memorial service, at Veterans Support group Nerang.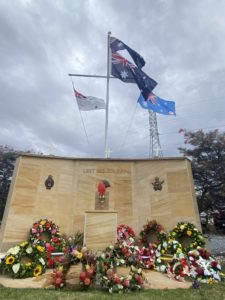 From our President – Veterans support Group /  Vietnam Veterans Federation QLD branch
I acknowledge the Yugambeh / Kombu Merri peoples and the many Indigenous people who served with us in Vietnam and all other conflicts and peace-time activities.  We are mates forever. We are all proud Australians in all the combined lands called Australia.  I was not aware of my indigenous heritage when I did my National Service.
We welcome the Honourable Meaghan Scanlon MP our Member for Gaven for her presence here today together with Duncan Sims on behalf of Councilor Bob La Castra.  Marilyn Handy will lay a wreath on behalf of Angie Bell MP, Member for Moncrief who is in lockdown in Canberra.
Major Matt Bourke and Major Peter Tarling both from the Land Warfare Centre, Canungra.   Matt our Guest Speaker and Peter, laying a wreath on behalf of the Australian Army.
Today, this Vietnam Veterans Day, we acknowledge the 60,000 Australians deployed to the Vietnam War in the 1960s /70s.  More than 3,000 wounded, and 521 lost their lives.  All wars impact heavily on families of those deployed to active service. None more so than the families who lost their loved one or the service men and women who returned with deep scars from their involvement.
Today we remember the actions of those involved in the Battle of Long Tan, 55 years ago.  There were 18 Australians killed, and 24 wounded of the 108 soldiers involved. The support services of the Artillery, Air Force and many others must not be overlooked.
Today we want to reach out to all who were deployed to the Vietnam War.  On reaching the age of 70 all Veterans with war-like service, and including Vietnam Veterans, are entitled to receive a Dept. Veterans Affairs (DVA) Gold Card for all their future, fully funded health care.  The DVA Gold Card is an incentive to keep fit and healthy.  If you know of a Vietnam Veteran who does not have a DVA Gold Card, then have that veteran contact us at our Veterans Support Group office in Nerang by phoning 07 5578 2233.  Our Advocates assist all veterans with their DVA entitlements.
We take this opportunity to thank all our doctors, nurses, specialists, and health care professionals who worked miracles for our traumatized and wounded during the Vietnam War. We also sincerely thank our current nurses, doctors, specialists, and health professionals who now accept the DVA health cards for Australian military veterans.  Your work and time are very much appreciated.
 I thank you and those who have worked hard to prepare so well for this Service.  Our thoughts are with all Afghanistan veterans and Afghani people, and we offer you our utmost support in this challenging time.  We commend all disaster responses from our current Australian Defense Force both at home and overseas.  Your work in COVID19 activities is an example.  We also acknowledge the success of our past  Peace Missions and remind ourselves that Peace and Democracy must be defended al all cost.
Thank you all and keep well.     – Peter Handy
CENTENNIAL YEAR OF THE RAAF
On the 31 Mar 1921, the Australian Air Force was formed at Point Cook, Vic.
On the 13 Aug 1921, the AAF was given Royal Assent to become the Royal Air Australian Force (RAAF).
On the 10 Jan 1922, 240 Officers and Airmen completed 3 months of technical training and on the 12 Oct of that year, Wing Commander Richard Williams became Chief of Air Staff.
On the 26 Jul 1940, the first Nursing Sisters were added to the RAAF.
In 1962, the first of the Iroquois 1B (Huey) arrived in Australia.
On the 03 Aug 1964, the first RAAF element arrived in Vietnam with Caribou transport aircraft.
On the 06 Jun 1966, the first RAAF Iroquois 1B arrived in Vietnam by means of HMAS Sydney and was part of No 9 Squadron.
From the time of arrival in Vietnam, the RAAF Huey aircraft were involved in daily insertions, extractions, medivacs and gunship support.
18 AUG 1966
Battle of Long Tan
Australian infantry heavily engaged in the Long Tan rubber plantation near the Australian base at Nui Dat, South Vietnam were faced with vastly superior numbers of enemy forces. Running critically short of ammunition, a call for resupply was made. Two Air Force UH-1B Iroquois helicopters, captained by Flight Lieutenants Frank Riley and Cliff Dohle, took off in torrential rain and failing light and flew to the location at tree top height. Arriving overhead at about 6 pm, the aircraft hovered at 30 (9 metres) feet while crews dropped boxes of ammunition wrapped in blankets through the trees directly into the company positions below. After the enemy withdrew the squadron's helicopters returned to assist with evacuating the wounded to hospital.
Whilst the two Huey Captains were advised by higher authority not to fly, this action, along with the involvement of the combined Australian and New Zealand Artillery, was the deciding factor in a lesser number of 18 KIA and 24 WIA from the original Company of 108 Diggers of D Company against a far superior force of a number of Viet Cong estimated to be in excess of 1,000.
This year marks the Centenary of the Royal Australian Air Force and the Force is to be commended for courageously participating in all conflicts, humanitarian aid projects, peacekeeping missions, flood and fire disasters and other tasking as dictated by Government.
Congratulations to the RAAF for their proud, courageous and safe service to Australia and the World during their centenary year.
Presented by Peter Cameron, OAM, Secretary/Treasurer of both VVF Branches at the Long Tan Memorial Service
Read by  Padre Gary Stone.
"Australian soldiers who fought in Vietnam were imbued with the notion of serving an honourable cause at the nations behest. For most this ethos seems not to to have changed. In Vietnam the task force had no sense of defeat. The final collapse, four years after the task force withdrawal and at the hands of the North Vietnamese Army, exemplified the tragedy, but seemed remote from the experience of the troops and their leaders. "
Ian McNeill – Vietnam Days.
Read by Andy Bryson – President of our Vietnam Veterans QLD Brisbane/Gold Coast Regional sub Branch Inc.
15989 Corporal Thomas Henry 'Buddy' Lea, 10 Platoon, D Company, 6RAR, of Grovely, Brisbane, Qld.
Corporal Lea, an Indigenous soldier of Aboriginal and South Sea Islander heritage, was one of twenty-six Australians of the 6th Battalion, The Royal Australian Regiment (6RAR), wounded in the battle of Long Tan.
During the battle, Corporal Buddy Lea rushed out through the D Company lines under enemy fire to drag the wounded 12 Platoon Sgt Paddy Todd back into their defensive perimeter.
The wounded Paddy Todd was edging closer to the D Coy position, crawling along the ground in the mud and rain, when one of Buddy Lea's machine gunners opened fire on Paddy. As Buddy says, "luckily he was a bad shot because he missed Paddy".
Paddy Todd took off his hat and yelled some Australian expletives. Buddy Lea heard him and disregarding the bullets flying thick and fast ran out to grab Paddy. Lea began to help Paddy get to the company aid post some 50 metres behind the front lines. On the way there was a reasonably large tree and the two had a bit of a spell there. Paddy looked up and could see two characters coming towards them in black. Paddy said, "Hey Buddy, have a look there." Buddy said, "That'll be A Coy they are on their way'.
Paddy said, "Well, they must have changed uniforms mate, because they are all in black." Buddy went behind a tree. One VC was in front of the other with an AK47. Buddy stepped out and let go, but this VC fellow was too quick and got Buddy in the left shoulder.
Paddy laughing out loud said, "You silly old bastard!" Paddy couldn't believe they were now both wounded trying to help each back to the aid post, but Lea didn't even realise he was hit as the adrenaline was pumping.
On the way back to the aid post they had to stop a couple of times and on one of these occasions, Jack Jewry, Lea's section 2IC noticed that part of Lea's shirt had come off his back and there was blood. Lea was kneeling, keeping an eye on enemy movement and Jewry came up behind Lea to help bandage his wound when suddenly Jewry fell across Lea's back. Jewry was shot and killed trying to help Buddy. Buddy Lea and Paddy Todd eventually made it to the company aid post and survived the battle.
Thomas Henry Lea, better known as Buddy, served for 35 years in the Australian Army and was admired by his comrades.
Lt Col Harry Smith described Buddy as the happiest person, who lit up any room.
"He was one of four indigenous soldiers that I had in my team.
"He was an excellent soldier; he was very brave and one of the most loyal people I've ever come across."
After battling lung cancer for three months, Vietnam War veteran Buddy Lea succumbed to the disease at the Hervey Bay Hospital at midnight on Friday 15 Sept 2014, at the age of 75.
With family by his side, he died peacefully.
Rest in Peace, Buddy Lea.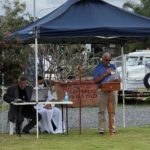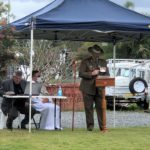 We remember.
Thank you for your service. For your courage, strength and bravery.
For the widows and families who have supported and stayed strong, we are here for you too.
Today, Thank You to all who attended and helped before and after the service.
Please reach out to All Vietnam Veterans, make sure they have their Gold card from DVA, We have 4 active advocates who can help and lodge a claim today.